Flowering Onion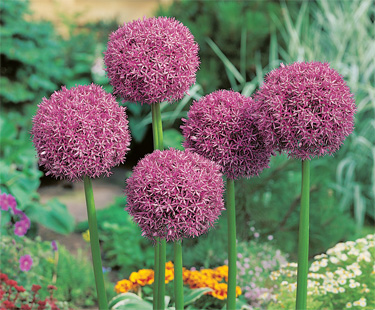 Common name
Flowering Onion
Botanical name
Allium giganteum
Variety
na
Zone
USDA Zone 5 (-20°F) to USDA Zone 9 (20°F).
Height
42-54" (107-137 cm)
Water
Weekly during dry spells
Bloom Time
Late spring to early summer
Maintenance
Keep weed free
About
Enormous globes of flowers on tall, slender stems. Beautiful when planted among early-flowering perennials, bulbs and shrubs where the onion flowers seem to hover over the other plants. Excellent cut flower, lovely in bouquets. Plants disappear shortly after blooming, but return each spring for another display.
Companion Plants
Collections